Prior to Your Application
Are you interested in studying abroad?
All students have the option to integrate a stay abroad into their program of study. Applying for an exchange program with one of the partner universities is the easiest way to go abroad. The important thing is that you have the necessary language skills and start planning early on. The International Office and the departmental exchange coordinators are there to support you. Apart from the exchange programs, you can alternatively go abroad as a free mover, for a short summer or spring program or do an internship abroad.
Read up on the exchange programs at the University of Mannheim and browse the experience reports by former exchange students. Roughly figure out, where you want to go and find out what you need to do to get there. The following pages guide you through this process step by step.
The right time to go abroad

The right time to spend one or two semesters abroad can differ from program to program and also heavily depends on the way you want to organize your studies. Some programs include a fixed period for stays abroad, others are a little more flexible.

Please note: For some exchange programs, you already have to apply during your first semester.
 

Bachelor's programs

In bachelor's programs, the fourth or fifth semester usually works best for a stay abroad. Depending on the region you would like to go to, the application deadlines might be a lot earlier: For some programs of study, the application deadline is at the end of the first semester.

You can find out which semesters are recommended for which program and when you need to apply in the overview of the usual application deadlines and the recommended periods for going abroad. If you are not sure what is right for you, consult with your department.

Programs with a mandatory stay abroad:
- For students in the bachelor's program Business Administration, the fifth semester is the mandatory semester abroad.
- Students in the four-year Bachelor's program Romance Languages, Literatures and Media (BA4) spend the third year of their program abroad.
For all other programs a stay abroad is optional – but highly recommended!

As an alternative, you may consider completing your bachelor's degree in Germany and then go abroad for your master's. Please keep in mind that you often have to pay high tuition fees when completing a master's degree abroad. This is why we recommend going abroad during your bachelor's, so you can get a taste of living abroad. After that, you can still complete a master's program abroad.
 

Master's programs

A master's program is pretty short and you only have the option to go abroad during your third or fourth semester. Gather information on going abroad right at the start of your master's program. For many programs you need to apply during your first semester. Further information can be found in the overview of the usual application deadlines and the recommended periods for going abroad. If you are not sure what is right for you, consult with your department.

Final theses and doctoral dissertations

Another good time to go abroad is the preparatory phase for final theses, such as the master's thesis and especially the doctoral dissertation. Your supervising professor will be able to help you get in contact with the right people abroad. Funding is available through the DAAD scholarship for doctoral candidates. 

Recognition of coursework and credits from abroad

Please note: Coursework and examinations completed abroad can be recognized for your program at the University of Mannheim in consultation with your department. That means, if you start planning early on and integrate your stay abroad into your program here, you will not take longer to complete your program. Start thinking about which universities work for you academically and offer courses that you are interested in taking. Talk to your departmental exchange coordinators about your plans and the options for recognition of credits .

Even if you need more time to complete your program because of a stay abroad - the time spent is definitely not lost! Regardless of how long you took to complete your degree, employers generally appreciate applicants who have spent some time abroad.
Here we go!
Alternatives to an exchange program
Studying abroad at a partner university does not work for all students. There are, however, other ways to integrate a stay abroad into your studies: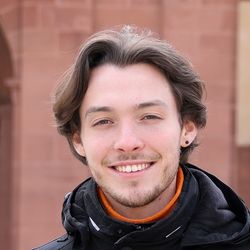 A lot of companies look for applicants with international experience, for example from studying abroad. But my semester abroad at the University of Gothenburg was of personal value to me in particular. In the four months I spent there, I made new friends, gathered new experiences in my spare time, learned Swedish and traveled a lot. I will never forget highlights such as dog-sledding, ice climbing and eating surströmming. Living in a different culture broadened my horizon. Moreover, the program of study at the host university was structured completely different from the one in Germany which made for a nice change academically.
Gerrit Minkus, student in the Master in Management program, University of Gothenburg (Sweden) / Photo credit: Elisa Berdica
Nothing compares to my semester abroad in Seoul. The people, the culture, the beautiful nature - we don't know much about these things here in Germany. That's why I want to go back there even more when I think about the friends I made and the home I found there. I would recommend a semester abroad in Seoul to anyone who is curious to see a whole new world. As soon as you reach the top of the mountain in Bukhansan National Park, you'll understand why.
Kim Maurus, student in the bachelor's program in Media and Communication Studies, Korea University, Seoul (South Korea) / Photo credit: Elisa Berdica
The semester abroad fit in well with my studies in Mannheim. I chose the third semester of my master's program to go to Barcelona. The courses that were recognized were not any less demanding than the ones in Mannheim but still offered a different perspective on the topics in question. Barcelona has a lot to offer and during my six months there, I was able to discover many different faces of the city. And the more I got to see and experience, the more Barcelona felt like a wonderful second home to me.
Hanna Herr, student in the master's program in Culture and Economy: French Studies, Universitat de Barcelona (Spain)
We are happy to help you: