The easiest way to go abroad on a scholarship is to apply for one of the Erasmus exchange programs at the University of Mannheim. They usually combine the allocation of a study place abroad with Erasmus funding. However, there are many attractive scholarships available for other destinations. Depending on the scholarship, applications may have to be submitted to the International Office or directly to the respective funding organization.
Tip: The Stipendienlotse (only available in German) offered by the Federal Ministry of Education and Research is a helpful search engine. It also lists smaller funding organizations that we are unable to include here.
Also take a look at the funding options for internships abroad or stays abroad as a foreign language instructor (Fremdsprachenassistenz).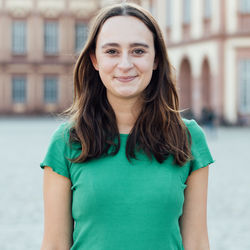 The PROMOS scholarship supported me well during my semester abroad in Australia. The application requirements for the scholarship are very clear and easy to meet. I particularly like that it is possible to apply for a scholarship on short notice and that the academic achievements as well as the letter of motivation are taken into account when scholarships are being awarded. I very much appreciated the financial support. In an expensive country like Australia, the grant allowed me to participate in some cultural events outside the university. I can only recommend applying for the PROMOS scholarship.
Flavia Saxler, student in the bachelor's program in Culture and Economics: Media and Communication Studies, University of Technology Sydney (Australia) / Photo credit: Leonie Kopetzki
We are happy to help you: