Support in Finding an Internship
The International Office does not arrange internships. However, in the following sections you can find an overview of a number of internship providers and agencies.
We are also happy to assist you in applying for financial support  for your internship abroad.
The following websites provide general information and serve as starting points for finding an internship: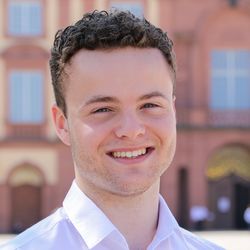 The New Kibbutz gives you the unique opportunity to dive into the world of start-ups and experience Israel's business culture and mentality. I completed an internship at a small company that advises small German businesses on innovation and helps them connect with Israeli high-tech start-ups in the respective field. During my internship, I learned a lot about the methods of business development, growth strategies and about how a start-up ecosystem can function. My most valuable experience was seeing the Israelis' relaxed, direct and bold approach to business and other aspects of life. I adopted this mentality and can see its benefits to my studies and my career even after my return to Germany.
Dimitri Bilyarchyk, student in the bachelor's program in Business Administration, internship in Tel Aviv (Israel) as part of the New Kibbutz program / Photo credit: Elisa Berdica
We're happy to advise you.