Internships at Schools Abroad
Internships at schools are a mandatory part of the teacher education programs. Why not complete your internship at a school abroad? You will improve your language skills and learn how to handle cultural differences in teaching and learning.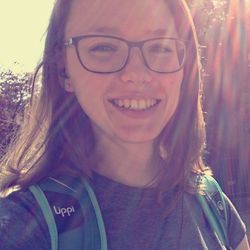 I combined my semester abroad with an internship, which made it possible for me to spend a whole year abroad without having to significantly extend my period of study in Mannheim. I am a student in the bachelor's program in Teacher Education in Spanish and English. I spent my semester abroad at the Universidad del Desarrollo in Chile and afterwards completed an internship at the Deutsche Schule in Santiago. Nine weeks of my internship were recognized for the mandatory 13-week teaching semester. Even though organizing my internship turned out to be quite the hassle, it gave me the opportunity to experience every-day life at a German school abroad firsthand. During my long stay abroad, I was also able to groove my Spanish language skills, which have already been an advantage in my studies and will be in my future occupation as a teacher.
Louisa Reiß, student in the bachelor's program in Teacher Education: Spanish, Universidad del Desarrollo in Santiago de Chile (Chile) / Photo credit: private
We're happy to advise you.