Special Requirements for International Students from Mannheim
If you, as an international student of the University of Mannheim, want to go abroad, we are happy to support you.
We recommend attending one of the Introductory Study Abroad Meetings to find out all about the different options for going abroad! They are usually held in German. An English-language meeting is held at the beginning of every fall/spring semester.
What you need to know as an international student: Depending on your nationality, there might be additional requirements that you need to be aware of.
This is why we would like to ask you to seek advice! We strongly advise any students who do not hold German citizenship to consult with the International Office before applying, so that we can identify any difficulties early on and find solutions together. This especially applies to you if you are studying in Germany on a residence permit or if you need a visa to go abroad. Make sure to consider the following questions: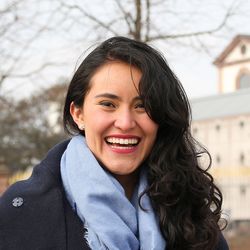 I spent my semester abroad at Trinity College Dublin. At first, I could not believe that I was going to spent the next few months in a country I did not know at all. But that was exactly what made every day an adventure. There was always something new to experience. Trinity College is located on a beautiful campus right in the heart of the city. Every time I stood in front of the main entrance, I felt so grateful that I got to experience a view like this every day. Academically, Trinity College provided me with new tools and perspectives that I am using right now in my bachelor's thesis and will be using in the future. It was definitely an unforgettable experience!
Mariana Roa Vargas, student in the bachelor's program in Political Science, Trinity College in Dublin (Ireland) / Photo credit: Elisa Berdica
We're happy to advise you.