Program of the Summer and Winter Academies
Preparatory courses: International Summer and Winter Academies
At the University of Mannheim, exchange students may attend preparatory intensive language courses as part of the International Summer Academy and the International Winter Academy, respectively. Yet, the International Summer and Winter Academies have much more to offer than just language courses: In addition to the intensive language course that takes place in the morning, you will have the opportunity to attend a wide range of seminars. For example, you can learn about German language and culture or deepen your knowledge in practice-oriented courses. Moreover, the program comprises courses on German cuisine, pop culture, or the history of the European Union.
Participants of the International Summer and Winter Academies may also use all of the university's facilities: For example, they can use the Media Center for individual learning or take part in sports courses offered by the Institute of Sports.
Moreover, our tutors will organize the most diverse accompanying activities. In addition to participating in joint excursions and day trips in the region, as for example to the region of the Palatinate or the mountain range of the Odenwald, engaging in sports activities and going to the movies round off the program.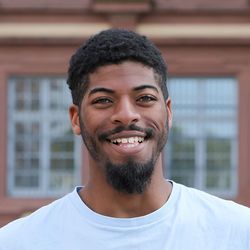 The winter academy helped me out a lot to meet people and learn some German.
Donavon Smith, exchange student in the bachelor's program in Business Administration, University of North Carolina at Greensboro (USA) / Photo credit: Elisa Berdica
Contact
Antonia Markou
German Language Courses Coordinator for International Exchange Students / Mannheim Summer School Program
University of Mannheim
Division II – Student Affairs
International Office
L 1, 1 – Room 110
68161 Mannheim
Consultation hour(s):
Mon 9 a.m. – noon and Wed 2 p.m. – 5 p.m.