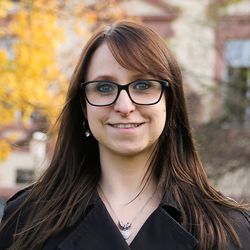 I currently work in corporate communication at m:con – mannheim:congress GmbH. The bachelor's program in Culture and Economy neatly combines the humanities, business and economics. Studying this program was great preparation for my current position which involves culture, society, and the economy. Through studying core and specialist subjects, you develop different approaches to working. This enables you to learn to be flexible, to quickly change your thinking, and to adjust to new tasks.
Sarah Gröhbühl, graduate of B.A. Culture and Economy: German Studies / Photo credit: Elisa Berdica
Dr. Marilene Burkard
Studiengangsmanagement B.A. und B.A. Kultur und Wirtschaft
University of Mannheim
School of Humanities
Kaiserring 14-16 – Room 612 (6th floor)
68161 Mannheim
Consultation hour(s):
Tue and Wed 10 a.m.–noon (without previous notice); during the semester break: Tue 10 a.m.–noon
Angelika Konrad-Schineller, M.A.
Studiengangsmanagement B.A. und B.A. Kultur und Wirtschaft
University of Mannheim
School of Humanities
Kaiserring 14–16 – Room 612 (6th floor)
68161 Mannheim
Consultation hour(s):
Tue and Wed 10 a.m.–noon, during the semester break: Tue 10 a.m.–noon (jeweils offene Sprechstunde)