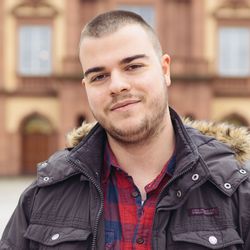 I've chosen the University of Mannheim because it is international. What I love about my course of studies is the combination of linguistics, literature and cultural studies and the possibility to customize my studies according to my interests. The individual support from our lecturers, the language practice courses and the module "Career Perspectives" are a perfect addition. For those who would like to look beyond a traditional English Studies or American Studies bachelor´s program, CELLS is the perfect choice!
Suat Yürür, student of B.A. Current English Linguistics and Literary Studies / Photo credit: Ye Fung Tchen
Dr. Marilene Burkard
Studiengangsmanagement B.A. und B.A. Kultur und Wirtschaft
University of Mannheim
School of Humanities
Kaiserring 14-16 – Room 612 (6th floor)
68161 Mannheim
Consultation hour(s):
Tue and Wed 10 a.m.–noon (without previous notice); during the semester break: Tue 10 a.m.–noon
Angelika Konrad-Schineller, M.A.
Studiengangsmanagement B.A. und B.A. Kultur und Wirtschaft
University of Mannheim
School of Humanities
Kaiserring 14–16 – Room 612 (6th floor)
68161 Mannheim
Consultation hour(s):
Tue and Wed 10 a.m.–noon, during the semester break: Tue 10 a.m.–noon (jeweils offene Sprechstunde)