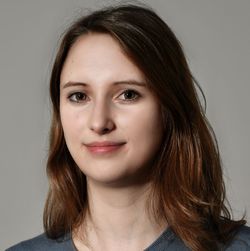 After I finished my bachelor's program, I was able to start work straight away. I have been working in the Government Relations section at SAP, the software company, in Brussels since 2016. As my job involves working on topics relating to economics, politics and society, the interdisciplinary structure of the bachelor's program in Culture and Economy, and my studies in the Humanities, Business Administration and Economics really help on a daily basis.
Sophie Vogt-Hohenlinde, graduate of B.A. Culture and Economy: History / Private photo
Dr. Marilene Burkard
Studiengangsmanagement B.A. und B.A. Kultur und Wirtschaft
University of Mannheim
School of Humanities
Kaiserring 14-16 – Room 612 (6th floor)
68161 Mannheim
Consultation hour(s):
Tue and Wed 10 a.m.–noon (without previous notice); during the semester break: Tue 10 a.m.–noon
Angelika Konrad-Schineller, M.A.
Studiengangsmanagement B.A. und B.A. Kultur und Wirtschaft
University of Mannheim
School of Humanities
Kaiserring 14–16 – Room 612 (6th floor)
68161 Mannheim
Consultation hour(s):
Tue and Wed 10 a.m.–noon, during the semester break: Tue 10 a.m.–noon (jeweils offene Sprechstunde)