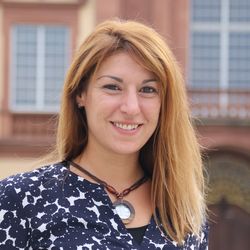 I really liked how the program combined Computer Science, Business Administration and Business Informatics with a wide range of soft skills seminars. That exact combination is required in my current job as an IT consultant. The key competences, presentation techniques and rhetoric, are also very useful in my daily work.
Rusen Gül, graduate of B.Sc. and M.Sc. Business Informatics / Photo credit: Elisa Berdica
Lisa Wessa
Management of Degree Programs
Questions regarding application and admission
University of Mannheim
School of Business Informatics and Mathematics
B 6, 26
Gebäudeteil B – Room B 1.04
68159 Mannheim
Consultation hour(s):
Wed 10 a.m. – 11.30. a.m.
Student Advisory for the Business Informatics Degree Program
University of Mannheim
School of Business Informatics and Mathematics
A 5, 6 – Room B 277
68159 Mannheim
Consultation hour(s):
on appointment